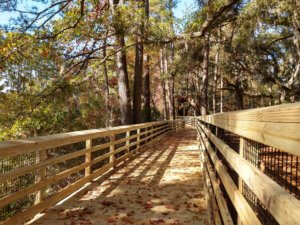 ​On behalf of 
Beaufort County Council
, the 
Beaufort County Community Development Department
 is hosting a Grand Opening celebration for Crystal Lake Park on Thursday, January 23, at 3:30 p.m. 
(new date).
 Located at 124 Lady's Island Drive, Beaufort (
map
), a cupcake social will kick off the celebration, with welcoming remarks by Beaufort County Council members followed by a ribbon cutting of the new nature trail. A guided walk of the new trail will be available to attendees.
As part of 
Beaufort County's Passive Parks Program
, Crystal Lake Park is 25 acres of forested habitats, salt marsh, and a man-made pond. The pond has a population primarily of redfish and mullet. Fishing in the pond is restricted to 
catch-and-release only
 due to the potential for unacceptably high cancer and non-cancer health risks. A pollinator garden created and maintained by volunteers is adjacent to the park office building.
The Butler Marine building at the park is open to the public Monday through Friday, from 9 a.m. to 2 p.m., and houses the Beaufort County Open Land Trust and the Beaufort Soil and Water Conservation District offices.
For a complete list of County Passive Parks click 
here
. For more information about the Passive Parks Program please call 843-255-2152.​