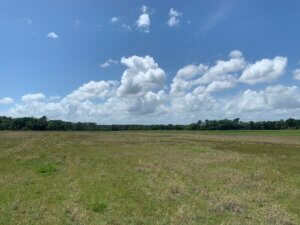 Read more at the Island Packet
BEAUFORT, S.C. – Nov 5, 2021 – The Beaufort County Council through the Rural and Critical Land Preservation Program announced the permanent protection of 88 acres of prime agricultural land on St. Helena Island.
Beaufort County Council's Rural and Critical Lands Preservation Program contributed $325,000 to purchase the development rights and permanently protect property off Tom Fripp Road along Eddings Creek, previously known as Henry Farms North.
"I am pleased that Beaufort County can help protect the remaining portion of Henry Farms in the Tom Fripp Community.  I am even more pleased to have the opportunity to partner with the Center for Heirs' Property Preservation Inc with land protection.  This is a win-win for the community," said Council Member York Glover, District 3 of St. Helena Island.
South Carolina Conservation Bank and Beaufort County Open Land Trust also contributed to the conservation project.
"St. Helena Island is such a unique and historic part of South Carolina, and the Conservation Bank is proud to partner with Beaufort County, the Open Land Trust and The Center for Heirs' Property Preservation™ to protect important farms and other family-owned land there," added Raleigh West, executive director, South Carolina Conservation Bank.
Total project cost was $700,000.  The Open Land Trust contributed $50,000 in funding and will hold the conservation easement; South Carolina Conservation Bank also contributed $325,000.  Their partnership ensures public access on the property in some form.  The Center for Heirs' Property Preservation™ will actively manage the property as a demonstration site with educational offerings for landowners and youth.
The conservation easement permanently restricts residential development and protects agricultural soils and water frontage along Eddings Creek.  This protection adds to over 1,700 acres of permanently protected land on St. Helena, including the nearby Henry Farms.
"Protecting agricultural land on St. Helena is a strategic priority for the land trust," said Kristin Williams, executive director, Open Land Trust. "But protecting this property in partnership is about even more than that. By working with The Center for Heirs' Property Preservation, we all demonstrate that protecting land and farming land under conservation easement is possible and important if we are going to protect family lands, soils, and people on the sea islands for generations to come."
The Center for Heirs' Property Preservation operates in 22 counties to protect heirs' properties by offering legal education and working with families to resolve title issues, while promoting sustainable land use that can economically benefit all generations and their communities and will welcome landowners and the public onto this protected property.
"Our mission is achieved by preventing land loss, resolving title issues among family members and encouraging sustainable land use," explains Dr. Jennie L. Stephens, chief executive officer, Center for Heirs' Property Preservation™. "Owning and protecting St. Helena Community Farms, formerly known as Henry Farms North, is another opportunity to demonstrate how working lands can work for families.  We look forward to working with the St. Helena community to develop our plan for the property, all while honoring its larger conservation value."
The property sale and ultimate protection by conservation easement is successful outcome in the ongoing effort to protect farmland that could otherwise be converted from farming to residential or commercial uses.   Begun in 2019, this land protection effort is a result of a partnership to buy and protect the property in a competitive real estate market before it was lost to a non-conservation use.