Rural and Critical Land Preservation Program Board
District 7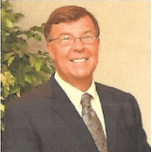 Richard is the Founder and President of the Walls Investment Management Company. A 1970 graduate of The University of Pennsylvania, Richard's four decades of industry experience provides Walls Investments' private and corporate clients with invaluable insight. Prior to founding Walls Investments, Richard served more than 20 years on Wall Street as an executive for a top tier brokerage firm building his extensive experience in the Investment Advisory industry. Richard leads the investment team responsible for managing clients' asset allocations, risk assessment, and individual security selection and monitoring.
Richard and his wife Marjorie reside in Bluffton, SC. He is a boating enthusiast and history aficionado, and enjoys serving the community as a Board Member of a local philanthropic organization.
<< Return to Rural and Critical Land Preservation Program Board page