150316_2015-REPI-Report-To-Congress

In a recent report to Congress, the Department of Defense announced its annual accomplishments to promote innovative land conservation solutions around military installations. In the 2015 the Beaufort Rural and Critical Lands Programs remains one of the national leaders in preserving land to sustain the mission of Marine Corps Air Station Beaufort.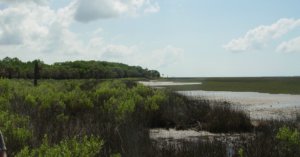 The 2015 Readiness and Environmental Protection Integration Program (REPI) Report to Congress was announced March 6, 2015. "The REPI Program is an important and innovative land protection tool for the environment that benefits both the community and the military by conserving natural resources while mitigating restrictions on military training and operations. We are proud to be in such an effective partnership with our community to protect the natural resources and beauty of the Lowcountry while safeguarding the role of our air station in defense of our nation," says Col Peter Buck, Marine Corps Air Station Beaufort Commanding Officer.
The REPI program operates through a partnership between MCAS Beaufort, Beaufort County's Rural and Critical Land Preservation Program and the Open Land Trust. The partnership has completed the most land protection projects and successfully competed to leverage more REPI dollars than any of the other Marine Corps programs. The REPI program has been invaluable in furthering the Rural and Critical land protection goals in Northern Beaufort County and stretching the County program dollars. Beaufort County voters have approved four bond referendums since 2002 totaling $135 million. Through 2014, the partnership has preserved 3,318 acres of property to protect the Air Station from encroachment.
Brian Flewelling, Chair of Beaufort County Council's Natural Resources Committee expands on the programs' value, "The REPI program is an effective way to stretch conservation dollars. Partnering with the Air Station, we have been able to protect the installation, protect jobs, and protect rural land and water quality. To learn that we have one of the top programs in the Marine Corps reinforces that Beaufort County is a leader in many areas", Flewelling says.
"The Open Land Trust is proud of the program," says its Executive Director Cindy Baysden. "We all recognize that local partnerships are the way to success. This just demonstrates that it is working. We expect to announce that several other properties will come into program over the next few years."
OLT administers the Rural and Critical Program on behalf Beaufort County. In 2014, conservation easements on two properties were purchased in partnership with MCAS Beaufort totaling 446 acres. Since the program's inception, over 23,000 acres have been protected in Beaufort County, including 3, 318 acres in partnership with the Air Station. The 2015 REPI report to Congress is available on the OLT Website (www.openlandtrust.com) and at www.repi.mil.